About one hour ago Upwork announced some big changes to their commission structure starting with June. Of course, the alterations they bring are less in the favor of the freelancer and more to the gain of Upwork. Here's how the new commission structure will look like:
– 20% for the first $500 you bill your client across all contracts
– 10% for total billings with your client between $500.01 and $10,000
– 5% for total billings with your client that exceed $10,000
You can find more info here: https://www.upwork.com/blog/2016/05/upwork-pricing/
As you can see, for all contracts up to $500, we will now have to pay double the money we did so far, while for everything between $500.01 and $10,000 (with the same customer), the commission will be the same. At the same time, if you exceed $10,000 ..oh, wait, I'm sure that you're one of the few that do reach this amount with the same client, so there's no point in talking about it.
It's hard for me not to express my outrage about this change. 10% was already enough for a service that didn't do much and a website that was full of bugs, but 20% means killing a lot of businesses and work for many freelancers. Not to mention that they will also add a 2.75% commission or $25 to all newly posted jobs which will probably make some clients look somewhere else.
So, how will this affect freelancers?
I've just went through about 60 messages that Upwork Community members left on the forum – http://bit.ly/1WG5Hkm. Most say that they don't get that much repeat business, thus, their contracts are worth below $500. I and Andreea can confirm this as only a few clients need repeat business. This doesn't mean that our services are bad, it just means that the clients don't need more work done.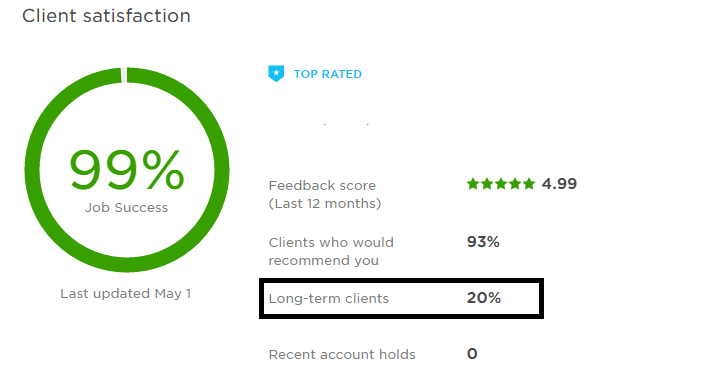 I've also taken a look at the first 20 jobs in the writing category and I found that the average price on a contract is $162.4. In conclusion, this means that the %20 fee will apply to most freelancers and contracts.
Now, the reality is even harder to swallow. Because, once the commission is higher, it means that you will also have to pay a higher VAT. So, if until now for a $300 contract you were paying a $30 commission plus $6 VAT (20%), you will now have to pay $60 commission plus $12 VAT (20%). So, in reality you will be paying $36 more than you did until now. This is outrageous.
How does the future on Upwork look like after the change in commission structure?
I loved Upwork as I felt that it's a platform that stands up for freelancers and is on our side. But I really feel that the platform will slowly die after this change. In my opinion, considering that clients will also be charged, they'll either move to seek talents on other platforms (Freelancer.com still charges 10%) or just request for more work outside of the platform. Freelancers will say yes as they'll try to avoid the 20% commission so Upwork won't gain anything from the deal.
My second theory is that experienced freelancers will increase their rates and clients won't be able to afford them, thus, they'll turn their head to low-ballers, which will offer low-level services. Thus, people with real skill will also lose business apart from the fact that they'll earn more money.
What can a freelancer do in this situation?
There's not much you can do, to be honest, apart from a few solutions that I'll present below:
a) Increase your pricing to cover the expenses – but this may turn in a lower number of contracts
b) Move clients to work outside of Upwork and receive payments via Paypal
c) Stick to the same price but earn less
d) Look for other platforms where you can sell your services. I've comprised a list of 51 websites here.